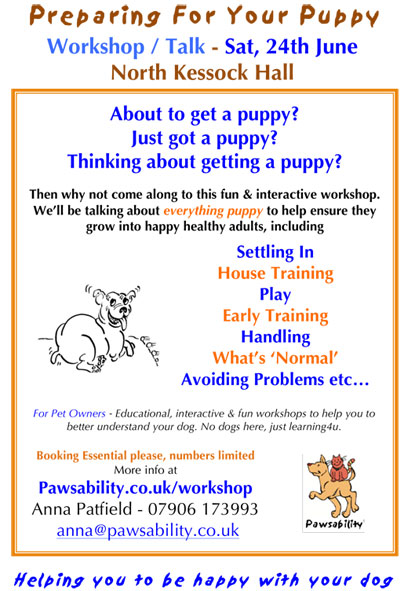 To hear about more Pawsability News and to be first to hear about future workshops, please signup to our mailing list here -
The workshop runs from 2-4pm and covers all the questions you may have about getting a puppy such as how to deal with the first few nights, house training problems, puppy biting, handling etc. This workshop will be helpful if you are about to get a puppy, are just thinking about it, or have just got your puppy.
For other puppy advice and help, please get just get in touch.
Please either pay via the paypal button or by bacs - bank details will be sent privately if you'd like to do that, please email me here
About paypal payments - please note that this is just a mechanism to take a card payment - you don't need a paypal account. Simply click on the 'Buy' button and then select 'Checkout - pay without a paypal account' button. (see what it looks like here)
Tickets are £15, please pay below or contact me on 07906173993
Event passed now. Thanks.
North Kessock Community Hall, Committee Room.
Thank you Anna, lots of info taken on board from today...re-writing my plan now. Great to meet and chat with others.....